Positive year-on-year Plumbing & Heating growth (+8.5%) for Merchant in July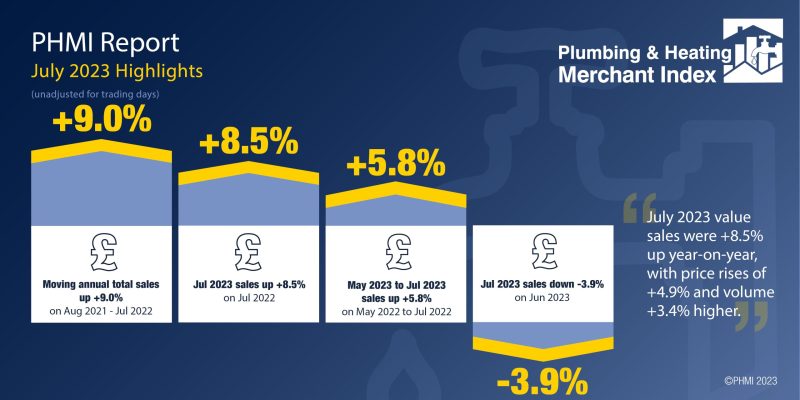 The latest figures from the Plumbing & Heating Merchant Index (PHMI) report show total value sales for July 2023 through specialist plumbing and heating merchants were up +8.5% on July last year. Prices increased +4.9%, as did volumes (+3.4%).
Month-on-month, value sales in July were -3.9% lower than June. Volume sales decreased by -2.3% and prices also fell -1.6%. With one less trading day in July, like-for-like sales were slightly up (+0.7%).
Total value sales over the last three months, May to July 2023, were +5.8% higher than the same period a year ago. Volume sales were marginally down (-0.4%) with prices climbing +6.3%. With one more trading day in the most recent three-month period, like-for-like sales were +4.1% higher.
Plumbing & Heating merchants' value sales in the 12-month period from August 2022 to July 2023 were +9.0% higher than the previous twelve-month period (August 2021 to July 2022). Volumes edged up (+0.2%) while prices increased sharply (+8.8%).
July's PHMI index was 95.0 with no difference in trading days.
Mike Rigby, CEO of MRA Research, which produces the report says: "Given the economic headwinds of persistent inflation, rising interest and mortgage rates and recovering but still wavering consumer confidence, July's year-on-year volume sales growth aptly represents the resilience of the Plumbing and Heating sector.
"There was more to cheer in July as a further reduction in the Energy Price Cap was announced, bringing welcome relief for bill payers. In the medium term, energy prices are unlikely to dip to pre-Ukraine war levels, so the impetus remains for those with savings or disposable income to invest in energy and water efficient products which will protect them from volatile prices in the future while also helping them to do their bit for the planet. Two very strong arguments to encourage purchases.
"With the new build housing sector continuing to falter, it is likely that demand for replacement heating and plumbing products may be the Merchants' bread and butter over the coming months, until more favourable economic conditions or policy changes can get Britain building – and buying – again."
The Plumbing & Heating Merchant Index (PHMI) is the first to analyse point of sales data collated from specialist plumbing & heating merchants with combined annual sales of £3bn, to chart their performance month-to-month.
Based on data from GfK's Plumbing & Heating Merchant Panel, which represents over 70% of the market by value, the report provides reliable data and a platform and voice for the industry, as well as for leading plumbing & heating brands. It is produced by MRA Research for the Builders Merchants Federation. There is no overlap or double counting between PHMI and the Builders Merchants Building Index (BMBI) sales data.
To download the latest report, or learn more about becoming an Expert, speaking on behalf of your market, visit www.phmi.co.uk.