Plumbing & Heating Merchants' August sales volumes were +0.8% ahead of July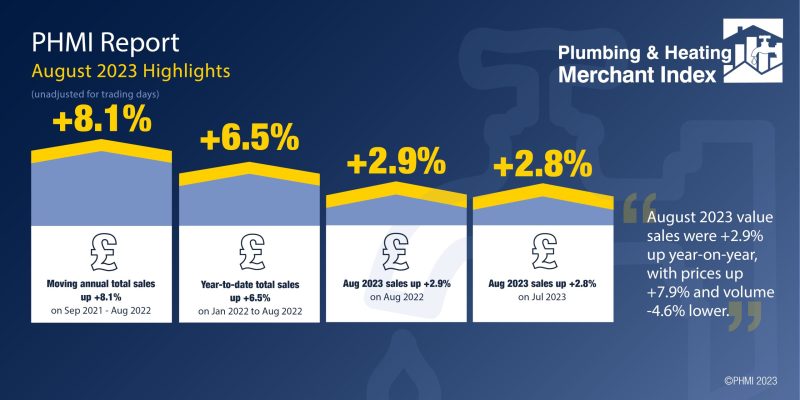 The latest figures from the Plumbing & Heating Merchant Index (PHMI) report show total value sales for August 2023 through specialist plumbing and heating merchants were up +2.8% higher than July. Volume sales edged up +0.8% with prices up +1.9%. With one extra trading day in August, like-for-like sales – which take trading day differences into account – were down -1.9%.
August's total value sales were +2.9% higher than in August last year. Prices increased +7.9%, while volumes fell -4.6%.
Total value sales over the last three months, June to August 2023, were +6.2% higher than the same period a year ago. Volume sales were down -0.3% and prices rose +6.6%. With two more trading days in the most recent three-month period, like-for-like sales were up +3.0%.
Plumbing & Heating merchants' value sales in the 12-month period from September 2022 to August 2023 were +8.1% higher than the previous twelve-month period (September 2021 to August 2022). Volumes were down -0.7% with prices rising +8.8%. With one less trading day in the most recent period, like-for-like sales were +8.5%.
August's PHMI index was 97.6. With one more trading day compared to the base figure, the like-for-like index was 91.7. 
Mike Rigby, CEO of MRA Research, which produces the report says: "Plumbing and Heating sector volumes largely held steady in August with less than a one point variance in month-on-month, quarterly, and rolling 12 month comparisons. Prices are still edging up though and this remains the main driver of value growth.
"Hit by a mix of concerns in October – war in the Middle East, a rise in fuel and gas prices, and colder weather – consumer confidence lost all the gains since April, as reported in GfK's Consumer Confidence index. Confidence is however well up from the October 2022 lows . In August, housebuilding continued to slump as indicated by the S&P Global/CIPS UK Purchasing Manager's Index which saw residential work fall to 38.1. Anything below 50 is bad news. The increased cost of borrowing and weak economic conditions were the main reasons cited by housebuilders for the sustained dip.
"With housebuilding in a downturn, the repair, maintain and improve market will likely provide the best opportunity for plumbing and heating sales in the Autumn whether that's a boiler or heating system upgrade to improve the energy efficiency of the home before winter, or a new bathroom before Christmas. Despite the government back pedalling on its green promises, there is a growing appetite for products which save energy and water, and those that are kinder to the environment, so this should remain a focus for trades and merchants alike."
The Plumbing & Heating Merchant Index (PHMI) is the first to analyse point of sales data collated from specialist plumbing & heating merchants with combined annual sales of £3bn, to chart their performance month-to-month.
Based on data from GfK's Plumbing & Heating Merchant Panel, which represents over 70% of the market by value, the report provides reliable data and a platform and voice for the industry, as well as for leading plumbing & heating brands. It is produced by MRA Research for the Builders Merchants Federation. There is no overlap or double counting between PHMI and the Builders Merchants Building Index (BMBI) sales data.
To download the latest report, or learn more about becoming an Expert, speaking on behalf of your market, visit www.phmi.co.uk.