May-July Builders Merchant value sales +8.5% up on previous 3 months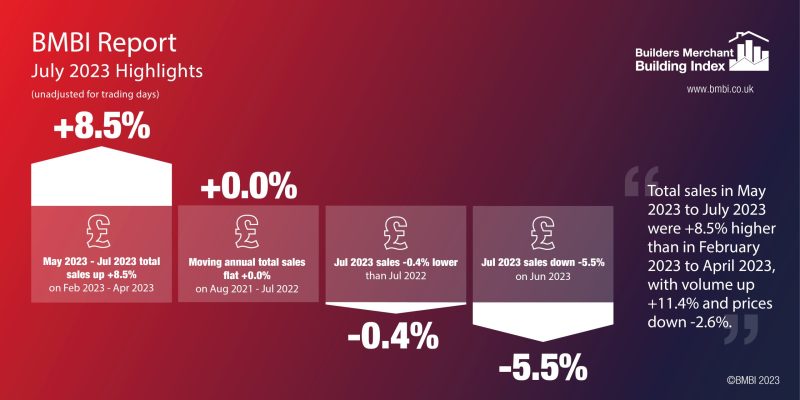 The latest Builders Merchant Building Index (BMBI) report shows builders' merchants' value sales were down -0.4% in July compared to the same month in 2022, with volume falling -7.9% and prices up +8.1%. But the last three months, May to July, value sales were +8.5% higher than in February to April 2023.
Nine of the twelve categories sold more this year than in July 2022. Renewables & Water Saving (+51.2%) continues its strong form, leading the field by a significant margin. Plumbing, Heating & Electrical (+14.0%), Decorating (+13.6%), Tools (+11.1%) and Kitchens & Bathrooms (+10.1%) all achieved double digit growth. Landscaping (-7.2%) and Timber & Joinery Products (-12.1%) were the weakest performing categories.
Month-on-month, total merchant sales were down -5.5% in July compared to June. Volume sales were down -7.5% while prices increased slightly (+2.2%). With one less trading day in July, like-for-like value sales were -1.0% lower. Only three of the twelve categories sold more, led by Renewables & Water Saving (+15.5%). Landscaping (-15.6%) was the weakest category.
Total merchant sales in the twelve months from August 2022 to July 2023 were flat (+0.0%) compared to the same period a year ago, with volumes down -12.2% and prices up by +13.9%. Nine of the twelve categories sold more with Renewables & Water Saving (+45.4%) doing best. Plumbing, Heating & Electrical (+13.8%), Decorating (+13.5%) Workwear & Safetywear (+12.9%), and Kitchens & Bathrooms (+10.8%) also hit double figure increases. Landscaping (-9.9%) and Timber & Joinery Products (-13.3%) were again the weakest categories.
Mike Rigby, CEO of MRA Research which produces this report, said: "The latest figures from BMBI show a slight drop off in Merchant value sales for July, but the rolling three month quarter on quarter comparison is more positive with May to July value sales up +8.5% on the previous three months.
"Housebuilding fell in July, for the eighth month in succession, as higher mortgage rates and cost of living pressures impact demand. Cool, wet and windy weather in July further dampened demand and delayed planned works. After six months of incremental increases, GfK's Consumer Confidence Index dipped in July (down -6 points to -30) but recovered in August to -25. This renewed optimism was reflected in households' personal finances and their expectations of the general economic outlook in the next 12 months. More significantly for RMI, there was an +8 point improvement in major purchase intentions.
"All is not doom and gloom. It's too easy to be swept along with the gloomy tendency of the national media narrative, a narrative which has had to be reset after the ONS released revised figures for the economy showing Britain to be doing as well and, in some cases (Germany), better than other European economies. Commercial building and infrastructure projects are still going strong, and the Government announced in July a raft of overdue initiatives to unblock bottlenecks in the planning system to speed up developments and build more homes to help meet their (revised) one million homes target."
Set up and run by MRA Research, the BMBI – a brand of the Builders Merchants Federation – is a monthly index of builders' merchant sales, and the most reliable, up-to-date measure of Repair, Maintenance, and Improvement (RMI) activity in the UK. The index is based on actual sales from GfK's Builders' Merchant Point of Sale Tracking Data, which captures value sales out to builders from generalist builders' merchants, accounting for over 80% of total sales from builders' merchants throughout Great Britain. An in-depth review, which includes commentary by sector experts, is provided each quarter.